Harmonic construction and simplification with a gorgeous 16in-38cm woofer.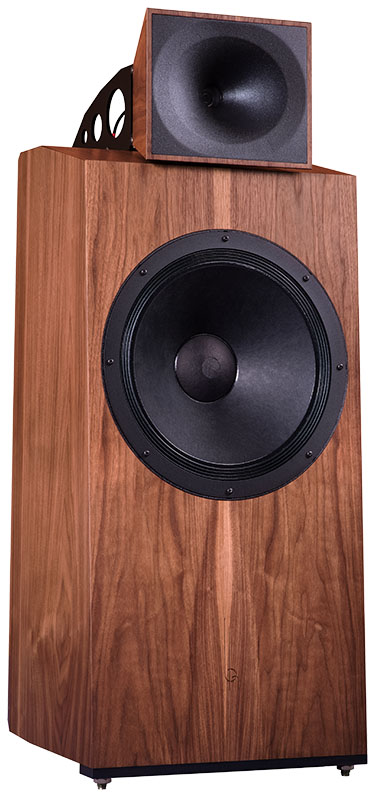 The new Genuin FS 1 MK 2 is a little bit more than a simple face lift of the 10 older Genuin FS 1. It is a big step forward in terms of construction philosophy and sound generation. This loudspeaker bears the technology introduced with the Gran Gioia and the Genuin FS 2: the Harmonic Construction and the floor ported bass reflex tunnel.
This 2 technologies instead of suppressing all unwanted vibrations, harmonically directs them in a studied way.
And of course complete new revised drivers, tuned for speed and optimised for efficiency and stability.
Specifications
• High efficiency
• 2-Ways loudspeaker


Cabinet

• Floor ported Bass-Reflex
• Harmonic construction


Components

• 1,4" Compression Driver with Titan membrane
• 16" Paper-Woofer
• Gold plated tellurium copper terminals


Features

• 2-1dB-steps level adjustment for the horn
• Bi-wiring- / Bi-amping -terminals
• Switchable impedance linearisation for the crossover frequency
• Flat impedance curve
• Tube Friendly
• 10 years Warranty
Words of the press
The Genuin FS 1 MK 2 delivers even more of that stuff which we like, mainly Dynamics and Resolution.
For Example with Nils Petter Molvaer […] the journalist sitting in the sweetspot was just able to groan with pleasure.
Direct, defined and this lightness that projected the bass impulse with absolute ease in the room - everything there, where it should be.
Male voices sounded sonorous, female voices open and free. This way it should be.
The virtual space seems to be deeper defined and the visual description of the stage bore at the same time more focus and power.
The famous horn coloration impressed by its absence.
Allrounder at highest level - with the add on of the kick for speed, timing, dynamic and resolution.
In the sum of the properties, I've never heard anything better in my rooms.
Technical Data
Genuin FS 1 MK 2

Material

Material

Materiale

Birch plywood

Birke Multiplex

Multistrato di betulla

Thickness

Materialdicke

Spessore

18mm / 0,75"

Internal Bracing

Verstrebung

Irrigidimento

Structural bracing interaction

Strukturelle interaktion

Interazione strutturale

Cross over chamber

Kammer für Frequenzweiche

Volume separato per filtro

No

Frequency range

Frequenzgang

Risposta in frequenza

36Hz - 20kHz &plusmn 2dB

Bass Cabinet

Bass Gehäuse

Cabinet dei bassi

Harmonic
Bass Reflex

Porting

Bass Reflex

Canale

Floor

Zum Boden

A pavimento

Woofer

Tiefmitteltöner

Woofer

380mm / 16"

Material

Material

Materiale

Paper

Papier

Carta

Cross over frequency

Übergangsfrequenz

Frequenza di taglio

850 Hz

Midhigh

Mittelhochtöner

Medioalti

Compression driver

Kompressionstreiber

Driver a compressione

Horn Throat

Horn

Diametro tromba

1,4"

Membrane dimensions

Membranendimension

Dimensione Membrana

75mm / 3"

Material

Material

Materiale

Titanium

Titan

Titanio

Max power input

Belastbarkeit

Potenza massima

(RMS)
150 W RMS

Efficiency

Wirkungsgrad

Efficienza

96 dB

Impedance

Impedanz

Impedenza

8 Ohm

Impedance linearization

Impedanzlinearisierung

Linearizzazione d'impedenza

Yes

Ja

Si

Terminal

Anschlussfeld

Terminali

Bi-Amping

Material

Material

Materiale

Gold plated
tellurium copper

Vergoldetes tellurium Kupfer

Rame tellurio placcato oro

Feets

Füße

Piedi

Adjustable Spykes

Regelbare Spykes

Spykes regolabili

Dimensions

Maßen

Dimensioni

1160 x 450 x 620 mm
45,75 x 17,75 x 24,35 in

Weight

Gewicht

Peso

60 kg

Packaging dimensions

Verpackungsmaßen

Dimensioni imballate

Loudspeakers per carton

Lautsprecher per Karton

Pezzi pro cartone

1

Packaging weight

Verpackungsgewicht

Peso imballate

70 kg

Center Loudspeakers

Center Lautsprecher

Diffusori centrali

:
Genuin CS 2 - Twin
Center 25
Dimensions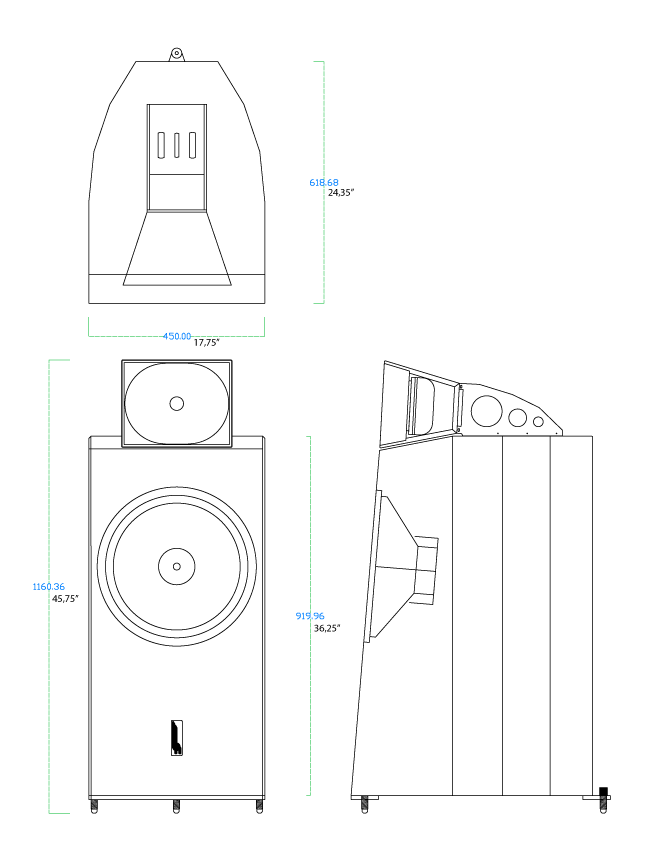 Gallery