Produced 2010-2016
Really impressive: stage, depth, speed and lightnes trough and trough. Maximized.
The Clara Luna is impressive in the massive sound stage that it is able to deliver, ranging up from the lowest frequencies to the top of what can be reproduced with such a light coherence that can not be supposed by the overall dimension of the components and the loudspeaker. The Clara Luna is a master in fact of transparency and speed. All this respecting the Music and the musicality. Without coloration and fakes in the reproduction.

The construction is hybrid: passive mid-high range in horn construction combined to an amplified 21" sub-woofer. This sub-woofer is moved by an 800W DSP corrected digital amplifier.

The mechanical construction of the loudspeaker presents big attention to the problematics of the time alignment and the delay of the DSP is balanced by an accurate positioning of the mid-range woofer on top of it.

To respect the time alignment of the top horn, we made it movable in distance and orientation.

The signal for the woofer is taken directly from the main power amplifier in order to respect the sound properties of the power amplifier.


Specifications of the Clara Luna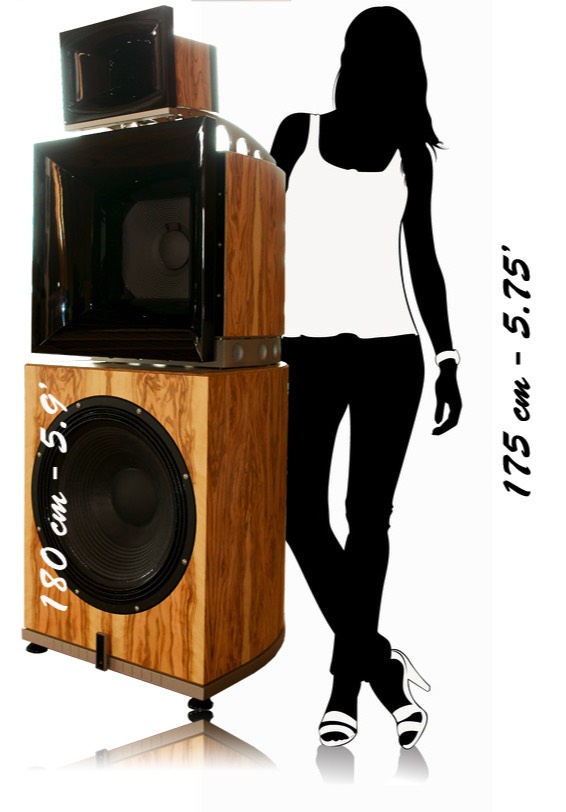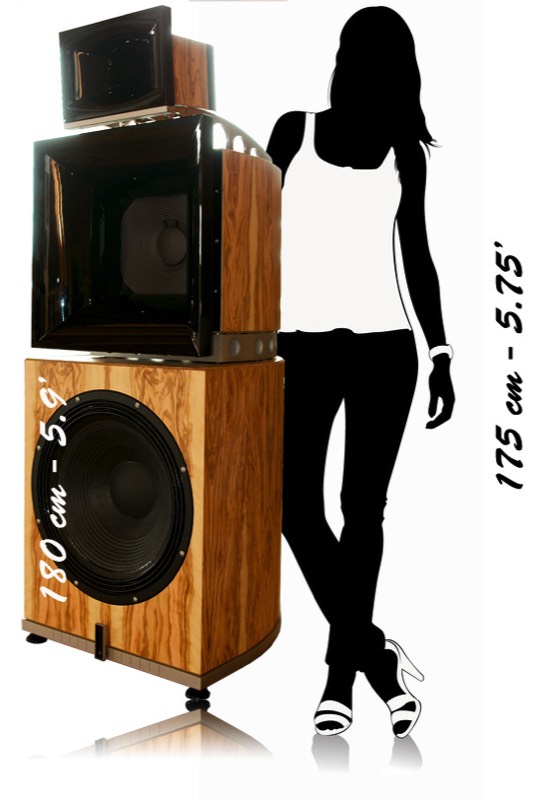 •
High efficiency
•
2-Ways loudspeaker
with active Subwoofer below 50Hz
Cabinet
• Front loaded midrange horn
• Closed cabinet for midrange and subwoofer
• 25mm
Birch plywood
• Separate chamber for the
crossover
• High complex internal bracing
• Modular construction
Components
• 1,4"
Compression Driver
with Titan membrane
• 16" TAD-Woofer
• 21" paper woofer
• 800W power amplifier for 21" woofer
• Gold plated tellurium copper terminals
Features
• 4-1dB-steps level adjustment for the horn
• 4 subwoofer presets
• subwoofer volume adjustable
• Bi-wiring- / Bi-amping -terminals
• Flat impedance curve
•
Tube Friendly
•
Time alignment
to the listening spot
• 10 years Warranty (except integrated amplifier)
Technical data of the Clara Luna
Clara Luna

Material

Material

Materiale

Birch plywood

Birke Multiplex

Multistrato di betulla

Thickness

Materialdicke

Spessore

25mm / 1"

Internal Bracing

Verstrebung

Irrigidimento

High complex internal bracing

Hoch komplexe interne Verstrebung

Irrigidimento strutturale interno

Cross over chamber

Kammer für Frequenzweiche

Volume separato per filtro

Yes

Ja

Si

Frequency range

Frequenzgang

Risposta in frequenza

20Hz - 20kHz &plusmn 2dB (*)

Low range Woofer

Tiefstöner

Woofer di basso profondo

460mm / 21"

Material

Material

Materiale

Paper

Papier

Carta

Power amplifier

Verstärker

Amplificatore

800W RMS - 8 Ω Class-D

Bass Cabinet

Tieftöner-Gehäuse

Cabinet dei bassi

Closed cabinet

Geschlossenes Gehäuse

Cassa chiusa

Cross over frequency

Übergangsfrequenz

Frequenza di taglio

50 Hz

Woofer

Tiefmitteltöner

Woofer

380mm / 16" TAD

Material

Material

Materiale

Paper

Papier

Carta

Bass Cabinet

Bass Gehäuse

Cabinet dei bassi

Horn in closed cabinet

Horn im geschlossenen Geh?use

Tromba in cassa chiusa

Porting

Bass Reflex

Canale Reflex

-

Horn load

Horn Richtung

Carico a tromba

Front

Nach vorne

Anteriore

Cross over frequency

Übergangsfrequenz

Frequenza di taglio

850 Hz

Midhigh

Mittelhochtöner

Medioalti

Compression driver

Kompressionstreiber

Driver a compressione

Horn Throat

Horn

Diametro tromba

1,4"

Membrane dimensions

Membranendimension

Dimensione Membrana

75mm / 3"

Material

Material

Materiale

Titanium

Titan

Titanio

Max RMS power input

RMS Belastbarkeit

Potenza massima RMS

250 W RMS

Efficiency

Wirkungsgrad

Efficienza

100 dB

Impedance

Impedanz

Impedenza

8 Ω

Impedance linearization

Impedanzlinearisierung

Linearizzazione d'impedenza

not needed

nicht notwendig

non necessaria

Terminal

Anschlussfeld

Terminali

Bi-Wiring

Material

Material

Materiale

Gold plated tellurium copper

Vergoldetes tellurium Kupfer

Rame tellurio placcato oro

Feets

Füße

Piedi

Adjustable Spykes

Regelbare Spykes

Spykes regolabili

Dimensions

Maßen

Dimensioni

-

Weight

Gewicht

Peso

180 kg
Picture Gallery of the Clara Luna